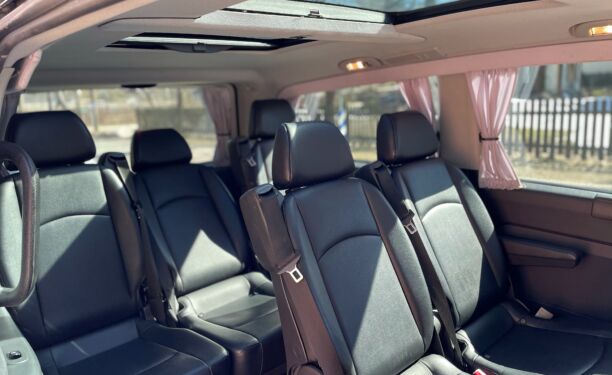 Location: Pärnu mnt 386, Tallinn
Technical details
Manufacturing Year: 2014
Transmission: Automaat
Seats: 9
Fuel: Diisel
Run: 390000 km
Fuel consumption: 8,1 l/100 km
Accessories:
CD mängija
Konditsioneer
Navigatsiooniseade
Parkimisandurid
Püsikiiruse hoidja
Stabiilsuskontroll
Veojõukontroll
Additional info
Üleandmine ja vastuvõtmine nii seest, kui ka väljast puhtana ja tangitud kütus samal tasemel mis välja andmisel. Kui auto vajab pesu seest lisandub 40 eurot lihtpesu või välipesu 30 eurot. Lisadest: parkimiskaamera, elektriline liuguks, panoraamkatus, salongisoojendus, toonitud klaasid, istmetel käetoed, seljatoed reguleeritavad ja ka lihtsasti teisaldatavad, autoabi 24h, buss heas korras.
Special conditions
Pets allowed: Yes

Smoking allowed: No

Trips abroad allowed: Yes

Minimum rental length: 1 day

Maximum rental length: 30 days

Amount of fuel spent during rental must be returned.
Rental calendar