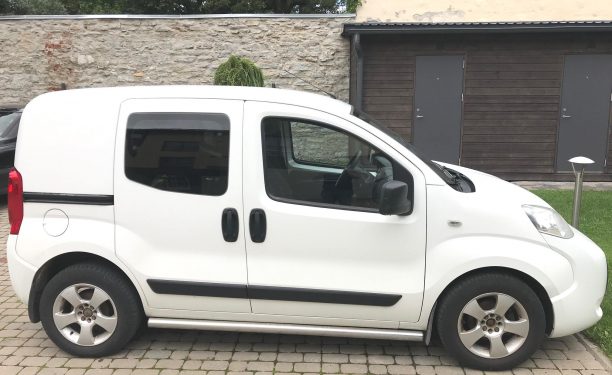 Location: Kesklinna linnaosa, Kesklinna
Marko
Successful rentals: 1
"Auto väga heas seisukorras."
Technical details
Transmission: Manuaal
Seats: 5
Fuel: Diisel
Run: 236000 km
Fuel consumption: 4.5 l/100 km
Accessories:
Bolt / Uber sõidud lubatud
CD mängija
Istmesoojendused
Püsikiiruse hoidja
Stabiilsuskontroll
Veojõukontroll
Veokonks
Wolt sõidud lubatud
Additional info
Rendi jooksul tarbitud kütus tuleb asendada enne auto tagastamist! Ökonoomne ja heade lisadega kaubik. Sobib hästi kullerile aga ka elektrikele, koristajatele. Webasto eelküttesüsteem tagab käivutuse ja sooja salongi ka talvel. Veokonks koos pikendab laadimisruumi ka suuremate kaupade veoks. Kaubaruum: 5 istekohta 60 x 100cm (Pikkus x laius) Kaubaruum: tagumine istmerida ülesse keeratud 100x100cm kaubaruum: tagumine istmerida välja võetud 130x100cm
Special conditions
Pets allowed: Yes

Smoking allowed: No

Trips abroad allowed: Yes

Minimum rental length: 1 day

Maximum rental length: 30 days

Amount of fuel spent during rental must be returned.
Rental calendar